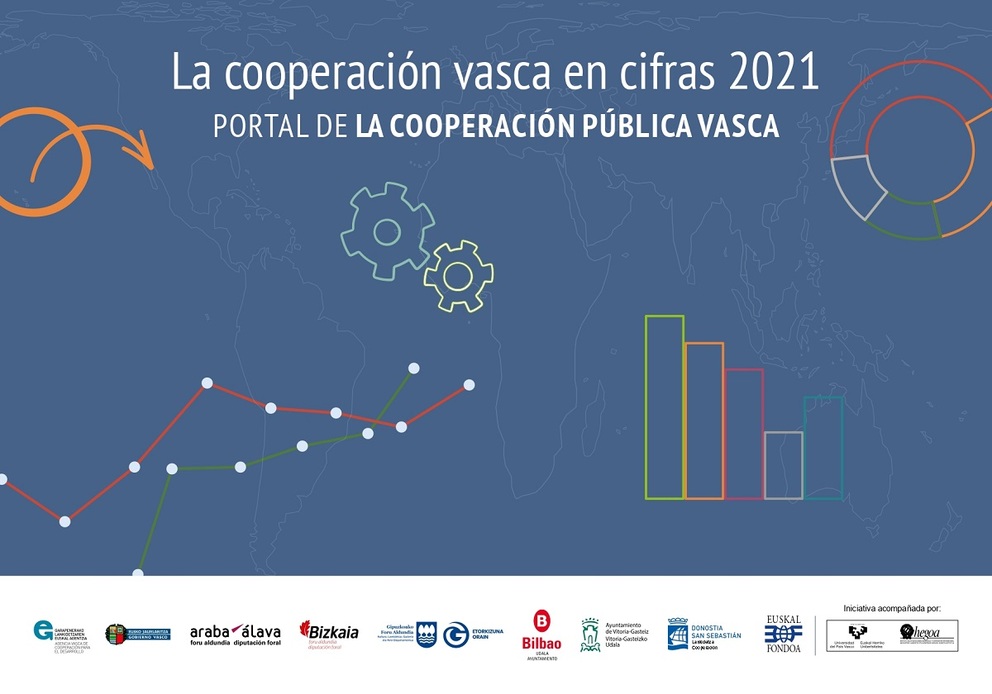 "The Basque cooperation in figures 2021" collects information about the solidarity initiatives accompanied the last year by the main Basque public institutions
In 2021, the eight main Basque public development cooperation institutions supported 1.121 initiatives in 66 countries, disbursing €74.2 million, channelled by 212 entities, mostly from Basque Country. Of these initiatives, 578 started in 2021. The details of the figures are available in "The Basque cooperation in figures 2021" report, recently published in the Basque Public Cooperation Portal and which contains information from the Basque Government, the three Provincial Councils, the City Council of the three basque capitals and Euskal Fondoa.
By modalities, in 2021 the total of funds disbursed went to: 62.73% to Development cooperation; 18.52% to Humanitarian and emergency action; 11.27% to Education for social transformation; 6.25% to Administration, management, planning and evaluation, and 1.23% to Strengthening the sector and others.
Basque Public Cooperation Portal
The Basque Public Cooperation Portal collects the Cooperation and Development actions promoted since 2014 by the following institutions: Basque Government; Provincial Councils of Alava, Bizkaia and Gipuzkoa; City Councils of Bilbao, San Sebastián and Vitoria-Gazteiz; and Euskal Fondoa - Association of Basque Local Development Cooperation Entities. It was born after a study of the different information and communication systems, carry out by the Research Group on Policy Coherence for Development and International Cooperation of Hegoa Institute (UPV/EHU), which has been advising and accompanying the implementation of this tool, focus in promoting the transparency, harmonization and inter-institucional cooperation in terms of development cooperation.
Currently, the Portal provides data from 2014 to 2021 and allows a transparent access to the information about the different basque public agents which allocate resources to cooperation; the projects carried out by year, geographical location and entities; as well as additional information helpful to understand visually the public solidarity actions in the Basque Country as a compilation, via graphics and analysis.
Title: La cooperación vasca en cifras 2021 / Euskal lankidetza zenbakitan 2021 / Basque development cooperation in figures 2021
Author: Basque Public Cooperation Portal / Euskal Lankidetza Publikoaren Ataria
Date and place: Vitoria-Gasteiz, 2022
Language: Spanish, basque, english
You can read the report in the Basque Public Cooperation Portal and in the Hegoa Digital Library.